Disco Chop Toolkit: How to organise a small scale food waste event
Uploaded by: Feedback
Uploaded on: 2nd August 2017
Author(s): Feedback

Overview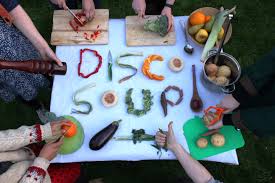 Creating your own celebratory feast is fun, easy and a great way to raise awareness of the global food waste scandal right in your own local community.You can use this toolkit to: -Organise the food prep for a larger feast. -Organise a full Disco Chop on a smaller scale WHAT IS A DISCO CHOP? A Disco Chop is a flavourful feast to highlight the solutions to food waste are delicious. Collect surplus food that would have been wasted, invite volunteers to chop and dance to the beat – then eat and enjoy. Our toolkit has everything you need to know from how to source food to how to find a DJ.
Contact name:
Christina O'Sullivan
Contact email:
Christina@feedbackglobal.org
More info link:
https://feedbackglobal.org/about-us/get-involved/feeding-5000-toolkit/
Files
Videos
Start sharing your knowledge!
Upload your own resource and share your ideas with the rest of the community.
Sign In | Share